Team Introduction
WORLD-AC (World Athlete Club), having the motto of "Road to the World from Okayama!", aims to employ and train para sport athletes and contribute to the local community through para sports.
Moreover, to convey and disseminate the wonder of para sports, we aim to participate and achieve results (win medals) in various competitions inside and outside Japan.
GROP SINCERITE
WORLD-AC
Training World-class Athletes
The top team of WORLD-AC was established on March 1, 2016. Examples of corporations launching para sport sports teams were still rare in Japan at that time, so the team attracted a lot of attention. Mr. Matsunaga is both an athlete and a team coach. He wants to create an environment in which young athletes can function as both competitors and working members of society. His desire is to nurture top athletes who can undertake responsibility in both these areas. The company responded to these aspirations. When deciding what to call the team, rather than simply adopting the company name, it was decided to prefix the name with "World", reflecting the goal of aiming for world-class performance. Two athletes achieved places at the 2016 Rio Paralympics. This was a worthy starting point for the team's name.
Maybe you will be the one to take on the world next. WORLD-AC awaits your challenge as you aspire to compete on the world stage.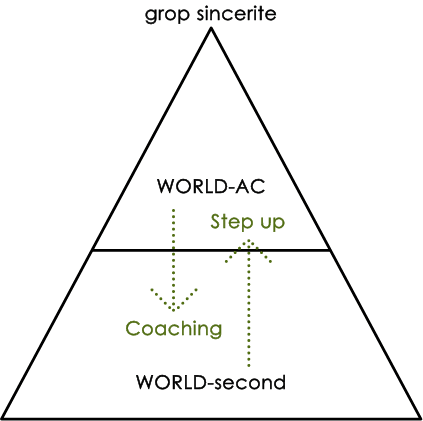 WORLD-second
Realizing self-growth through various para sports
WORLD-second, which is the second team, was established with the aims of, together with the growth of WORLD-AC, making sport more accessible, promoting the inherent fun of sport, attaining goals and encouraging self-growth based on mutual encouragement. More than just winning, maybe the most important thing in sport is to attain mental and physical soundness.
WORLD-second supports all para sports, whether the goal is to become a top team or to help individual athletes strive for their individual targets. We will help you take your first step at any time.
WORLD-second is recruiting members from inside and outside of the company from now on.
Team profile
| | |
| --- | --- |
| Official name | GROP SINCERITE WORLD-AC |
| Operating body | grop sincerite Co., Ltd. |
| Representative | Shogo Takata |
| Coach | Hitoshi Matsunaga |
| Department Director | Yugo Kusaka |
| Managers | Shinjiro Oki, Yu Sadano |
| Staff | Sayaka Tanaka, Mami Jin, Ayumi Honda, Aya Suganou |
grop sincerite Co., Ltd. WORLD-AC BASE (training gym and secretariat)
Address
2-28-7.1F Kaminakano, Kita-ku, Okayama City, Okayama Prefecture 700-0972
Contact

〈main switchboard〉

TEL:086-242-3525 FAX:086-242-3526
E-Mail
Map
Team History
| | |
| --- | --- |
| 2014, April | Mr. Matsunaga signed an athlete contract to join grop sincerite Co., Ltd. |
| 2015, September | Mr. Satoh joined the company as a regular employee |
| 2015, December | Mr. Ikoma joined the company as a regular employee |
| 2016, March | GROP SINCERITE WORLD-AC (World Athlete Club) is established |
| 2016, September | Matsunaga and Sato are selected to the Japan team for the Rio de Janeiro Paralympics. Sato wins silver medals in the T52 class 400m and 1500m races. |
| 2017, January | Official establishment of the second team WORLD-second |
| 2018, June | Opening of WORLD-AC BASE (Training Gym) in Shimonakano, Kita-ku, Okayama City |
| 2021, March | WORLD-AC BASE (training gym and secretariat) shifted to Kaminakano, Kita Ward, Okayama City. |
| 2021, April | WORLD-second Hibiki Toyota stepped up to WORLD-AC. |
| 2021, September | Tokyo 2020 Paralympic Games raw horses participate |
Team awards
| | |
| --- | --- |
| 2016 | Special Award, 13th Okayama Musashi Club Meet |
| 2020 | Minister of Education, Culture, Sports, Science and Technology Group Award for Achievements in Sports |