Introducing the Athletes
Here are the members who are striving to realize their goals with sound minds and
bodies honed through various parasports.
Yuzo Takada
Wheelchair track & field T54
Goal:

To appear in the Paralympic Games and win a medal.

Message:

I am now focusing on healing my injury and becoming a top athlete.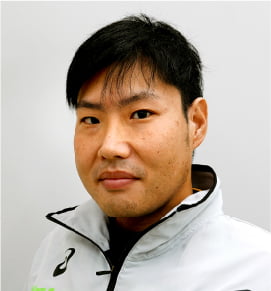 Main Results in Competition
2017
30th Okayama Kibi kogen Wheelchair Road Race
Wheelchair Men's 10km:
Second place
Bizen Fureai Marathon Race
Wheelchair Men's 1500m:
Third place
2018
29th National Wheelchair Ekiden
Okayama Team: Fifth place
18th Okayama Prefectural Parasports Championships
100m: First place
Aichi Para-Athletics Festival, 100m: Third place, 200m: Second place
100m: Third place
200m: Second place
400m: Third place
800m: Fourth place
Japan Para Athletics Championships
100m: Eighth place
200m: Seventh place
29th Japan Para Athletics Championships
200m final: Eighth place
Hibiki Toyota
Wheelchair track & field T54
Goal:

To efficiently balance school with athletics.

Message:

As I was born with congenital tibia line aplasia, I have been in wheelchair since I was three years old.
I liked to exercise, so I participated in wheelchair sports.
I first encountered Mr. Matsunaga at a school lecture meeting in springtime of my first year at junior high school.
Since then, I used time after school and times when I had no club activities to conduct track training with Mr. Matsunaga, Mr. Satoh and Mr. Ikoma of WORLD-AC.
I want to join WORLD-AC and become the best in the world.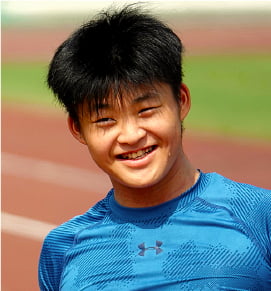 Main Results in Competition
2019
Chugoku/Shikoku Para Athletics Championships
100m: 16.76
200m: 30.00
400m: 56.72
32nd Okayama Kibikogen Wheelchair Road Race
Wheelchair Men's
10km T53/54:
Second place
Hayato Tadanobu
Tennis
Bowling
Goal:

To win a gold medal at the World Championships!
To Lead a full life while striking a balance with work.

Message:

Every day, I return home from work and throw myself into training and practicing tennis.
The athletes I aspire to are the tennis players Kei Nishikori and Roger Federer and WORLD-AC's Hitoshi Matsunaga.
I want to practice more so that I can compete with players from around the world.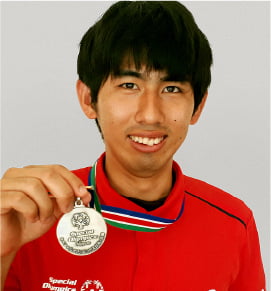 Main Results in Competition
2011
11th National Sports Festival for People with
Disabilities (Yamaguchi Prefecture), Bowling
Group 4, Fifth place
2018
7th Special Olympics National Summer Games held in Aichi
Tennis: gold medal
2019
Special Olympics World Games, Abu Dhabi (Division 5)
Singles: silver medal
Mixed doubles: silver medal
19th National Sports Festival for People with
Disabilities (Ibaraki Prefecture), Bowling (cancelled)
* What is Division
Athletes are divided into groups (divisions) corresponding to age, gender and degree of athletic ability to ensure that athletes having similar sporting ability can compete as far as possible.
In this system, after coming through qualifying rounds, the athletes advance to the finals upon being grouped according to their sporting ability.
Yoshihiro Okayama
Marathon
Goal:

I want to get revenge in the Okayama full marathon!

Message:

In the 1st Okayama Marathon, I was able to complete the full marathon in my first attempt. In the second one, I completed the course in less than 5 hours, however, in the third to fifth marathons, I missed out on selection in the draw. Recently, I feel a sense of crisis over the fact that I haven't been running or stretching at all. Each day I aim to do my stretching without fail and increase my running distances a little at a time.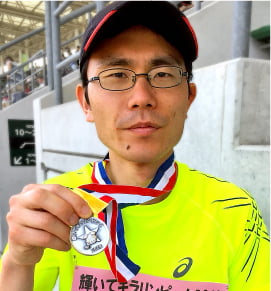 Main Results in Competition
2015
1st Okayama Marathon
5 hours 29 minutes
2016
2nd Okayama Marathon
4 hours 5 minutes
Okayama Saidaiji Marathon, 10km male high school student~29 years
33rd place
43 minutes 47 seconds
Masaya Tomaki
Flying disc (Accuracy, Distance)
Goal:

To throw 50m.

Message:

I want to become national champion and make my family happy. I want to throw further than my target of 50m.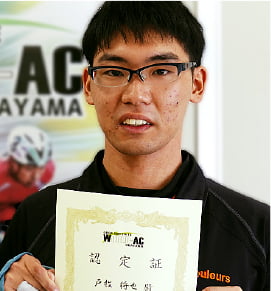 Main Results in Competition
2016
16th National Sports Festival for People with
Disabilities (Iwate Prefecture), flying disc
accuracy 9 throws: Second place
Distance: 47m 20cm, champion
2017
17th National Sports Festival for People with
Disabilities (Ehime Prefecture), flying disc
accuracy 9 throws: Third place
Distance: 34m 17cm, Fifth place
2018
18th National Sports Festival for People with
Disabilities (Fukui Prefecture), flying disc
accuracy 7 throws: Fourth place
Distance: 47m 10cm, Third place
2019
19th National Sports Festival for People with
Disabilities (Ibaraki Prefecture), flying disc (cancelled)