Introducing the Athletes
Here are the members who are striving to realize their goals with sound minds and
bodies honed through various parasports.
Kazue Nakamura
Buraindomarason
Goal:

Aim for the Paris Paralympics.

Message:

I am very happy to be able to belong to this second because I am blessed with the relationship between the director and the coach.
I will do my best to achieve results while enjoying running with all my strength.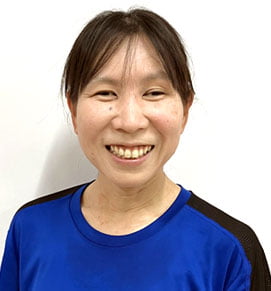 Main Results in Competition
| | | |
| --- | --- | --- |
| 2020 | The 11th Hayashima Marathon Tournament | 10km 48 minutes 24 seconds (unofficial) |
| 2019 | 22nd Beefarm Kasaoka Marathon Tournament | Half 1 hour 49 minutes 39 seconds |
| | Tottori Marathon 2019 | Full 3 hours 54 minutes 49 seconds |
| 2018 | 18th Okayama Prefecture Sports Tournament for the Disabled "Shining Kira Rinpic" | 1500m 6 minutes 39 seconds 26 |
| 2017 | 36th Sanyo Women's Road Race Tournament 2017 | Women's General 10km 50 minutes 28 seconds |
| 2016 | Okayama Marathon 2016 | Full 4 hours 30 minutes 09 seconds (first full marathon) |
Eri Ohashi
Buraindomarason
Goal:

First I want to extend the distance that I can run 3km and then 10km!

Message:

It was an exercise that I started to improve my health, but if I continued while receiving advice from various people Exercise has become a daily routine and a hobby. Sports, which I was not very good at, are now curious!
Even if I can't do it, I don't know anything about it, so I think it's fun I will try it.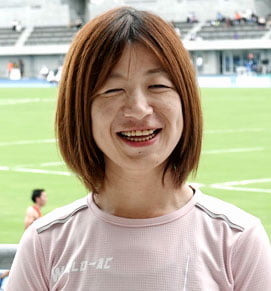 Scheduled to participate
| | | |
| --- | --- | --- |
| 2022.10 | Okayama Kibi Kogen Wheelchair Fureai Road Race | |
Yuzo Takada
Wheelchair track & field T54
Goal:

To appear in the Paralympic Games and win a medal.

Message:

I am now focusing on healing my injury and becoming a top athlete.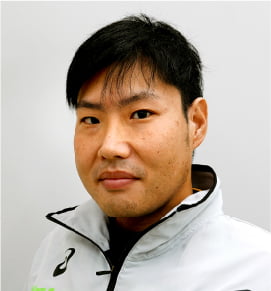 Main Results in Competition
2018
29th National Wheelchair Ekiden
Okayama Team: Fifth place
18th Okayama Prefectural Parasports Championships
100m: First place
Aichi Para-Athletics Festival, 100m: Third place, 200m: Second place
100m: Third place
200m: Second place
400m: Third place
800m: Fourth place
Japan Para Athletics Championships
100m: Eighth place
200m: Seventh place
29th Japan Para Athletics Championships
200m final: Eighth place
2017
30th Okayama Kibi kogen Wheelchair Road Race
Wheelchair Men's 10km:
Second place
Bizen Fureai Marathon Race
Wheelchair Men's 1500m:
Third place
Yoshihiro Okayama
Marathon
Goal:

I want to get revenge in the Okayama full marathon!

Message:

In the 1st Okayama Marathon, I was able to complete the full marathon in my first attempt.
In the second one, I completed the course in less than 5 hours, however, in the third to fifth marathons, I missed out on selection in the draw. Recently, I feel a sense of crisis over the fact that I haven't been running or stretching at all. Each day I aim to do my stretching without fail and increase my running distances a little at a time.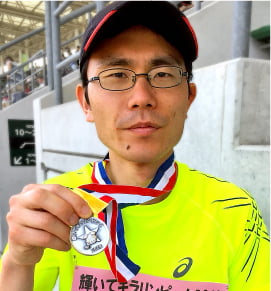 Main Results in Competition
2016
2nd Okayama Marathon
Full 4 hours 5 minutes
Okayama Saidaiji Marathon, 10km male high school student~29 years
33rd place
43 minutes 47 seconds
2015
1st Okayama Marathon
Full 5 hours 29 minutes (first full marathon)
Abe Kohei
Cross-country skiing
Goal:

Represent the World Ski Championships

Message:

I am happy to be able to belong to WORLD-second.
I have a short history of skiing, but I will work hard with the team.
I want to be a player who aims for the world. Thank you.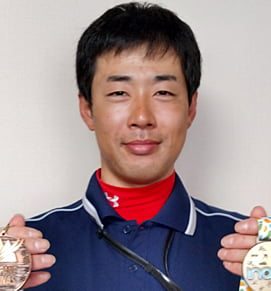 Main Results in Competition
2021
The 24st All Japan Cross-Country Skiing Tournament for the Disabled
Free 2 minutes 43 seconds 4 4th place
Classical 19 minutes 5 seconds 7 4th place
2020
The 22st All Japan Cross-Country Skiing Tournament for the Disabled
Free 16 minutes 10 seconds 1 4th place
2019
The 21st All Japan Cross-Country Skiing Tournament for the Disabled
Free 18 minutes 20 seconds 5 5th place
INAS Ski World Championship
Classical 11th place
Classical 12th place in qualifying
Relay boys 3rd place bronze medal
Free 14th place
2018
The 26th Aomori Prefecture Sports Tournament for the Disabled
4 minutes 38 seconds 79 championship
The 20th All Japan Cross-Country Skiing Tournament for the Disabled
Free 19 minutes 4 seconds 7 3rd place
INAS Ski World Championship
Free 17th place
Classical 17th place(Advance to quarterfinals)
Gender mixed relay 3rd place bronze medal
Free 13th place
2017
The 19th All Japan Cross-Country Skiing Tournament for the Disabled
Free 17 minutes 11 seconds 5 3rd place
2016
The 24th Aomori Prefecture Sports Tournament for the Disabled
4 minutes 41 seconds championship